Director Steven Paskin is clear about DinStock's market position. "Our target market is mainly the construction supply industry. Our strength within that is for non-preferred and special fasteners, although increasingly these days the unusual is becoming our 'standard'. Larger diameters, longer lengths and higher grades, these are the fasteners people find difficult to get, and in which DinStock excels."
People, incidentally, means fastener distributors. "We firmly believe we cannot develop our business by going out and trying to win both user and distribution customers," says Steve. "We are very comfortable dealing with distributors. We know we are competitive and we want distributors to trust us in the knowledge they are not competing with us."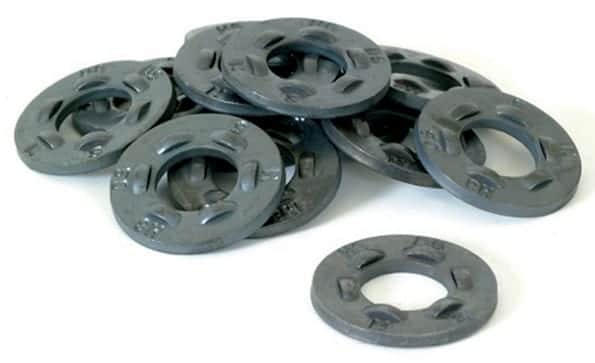 DinStock's service capability is founded on a quite extraordinary stockholding of quality assured standard, non-preferred and blank forgings, primarily sourced through a longstanding partnership with a reputed Indian factory. Link that to a well equipped machining centre and a production team that has honed its skills on the job, meeting the demanding service requirements of the UK industry, and Steven Paskin believes there are few suppliers that can match DinStock's rapid delivery times or range of product.
Managing director, Robert Pearson's motto is: "The impossible is normal; miracles may take a little longer! If you took a typical order for a batch of say 150-200 fasteners in self-colour, we would expect to turn them round in two to three days. If coating is required, add a couple more days." That said, there are plenty of stories of performing miracles when a customer is really under time pressure. "It's all too often the case that everything is ready to begin on-site when they suddenly realise no-one has remembered to order the bolts which are required first." The combination of inventory, manufacturing capability and strong relationship with its primary forging supplier means DinStock can provide additional flexibility in supporting its customers. "If the project is under pressure to get started, we can manufacture initial batches of bolts in the UK and then follow up with volume supplies from the factory on the longer standard delivery schedule."
Pre-load fasteners are offered to EN14399 from M12 to M36 diameters in both 8.8 and 10.9 Grades. There is another essential product about which DinStock is passionate and extremely proud. "The 'Dimple™ DTI' EN14399-9 Direct Tension Indicating washers are a really important part of the high strength friction grip assembly," explains Steve. "Torque does not equal tension – the slightest contamination in the thread may distort the torque reading and seriously affect the accuracy of the final joint tension. Dimple™ DTI washers provide a simple, visible check that reduces time and labour costs as well as providing peace of mind. We always recommend them to our customers. The DinStock Dimple™ product is available for Grade 8.8 and 10.9 assemblies and are manufactured in Europe on our own tooling to EN 14399 Part 9."
The DinStock range includes diameters starting at M12 – nothing exceptional there, until you realise the company holds blanks in that diameter up to 750mm long. It has a comprehensive inventory of hexagon forgings ranging up to M48 diameter with blanks up to 1,500mm long. Diameters beyond that and up to M76 diameter are available in lengths up to 1,000mm.