Industrial Fasteners Manufacturers
Dinstock manufactures a broad range of standard 'Cold-Formed' and 'Hot Forged' fasteners in most materials, head styles, and grades from M10 to M100 diameter. We specialise in the production of large diameter and long length non-standard fasteners, from 'Hot Forged' bolt forgings M10 to M76 diameter and up to 1.5M in length, and all from stock. We have in-house manufacturing capability for roll and machine threading, CNC machining, as well as hardness, rotation, and tensile testing.
We manufacture the following products:
Hexagon Bolting
Structural Bolting
Foundation Bolting
Other Bolting
Threaded Rods
Tie Bars & Studs
Our range of machinery for the production of standard and non-standard fasteners includes the following:
Thread Rolling – TRT50
This machine has the capability to thread up to M64 diameter.
Thread rolling is a process that has been around for over a hundred years. It is a cold-forming process that can be performed on any ductile metal and is the preferred method for producing strong, smooth, precise, and uniform external thread forms.
The basic mechanism involves hardened steel dies reshaping the material surface of a cylindrical blank under high pressure into a thread form. Other threading processes remove material to produce the thread form, whereas thread rolling reshapes the material.
The cylindrical workpiece (or blank) is fed into the machine and the dies squeeze the blank while rotating it to produce the threads.
Every thread form, shape, and size has a unique set of dies which are typically ground from heat-treated tool steel. The dies have the reverse form of the finished thread. Properly formed threads require that the dies are exactly lined up and track properly in order to avoid internal defects, such as overlaps, cracks, folds, seams, and craters.
Thread rolling produces a superior quality thread whilst retaining a higher degree of accuracy and greatly reduced production times when compared with other thread manufacturing methods.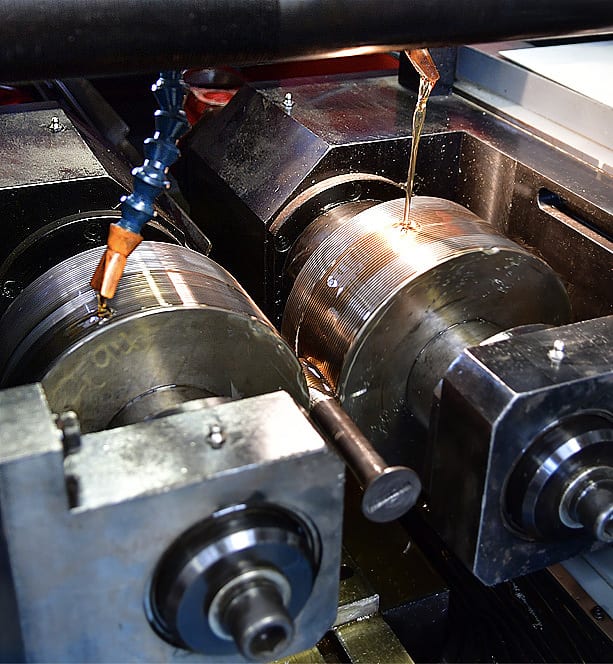 Conventional Thread Cutting – Teledyne Landis Model: 32LM
Our conventional thread cutting machines have the capability to cut thread up to M100 diameter in grades ranging from mild steel through to high tensile steel grade 12.9.
Landis Thread Cutting tools are excellent for producing UN, BSF, Whitworth and Metric straight threads, NPT, NPTF, NPSM, BSTP, BSPP and API pipe threads.
Unequalled for producing Acme and similar coarse pitch threads requiring heavy metal removal.
Face mounted chaser holder sets provide wide range and
oversize capacities.
Available special chaser holders are required to thread special diameter and pitch combinations, to cut Acme and similar threads or when close tolerances must be held.
Heads are locked in the closed position by hardened pins
engaged in hardened bushings.
Self-opening action or yoke movement, depending upon
model of die head used, withdraws pins from bushings to
effect opening.
When the pins withdraw from the bushings, the closing
ring rotates snapping the chaser holders radially outward
to clear the chasers from finished thread. Pins and bushings
are replaceable when worn.
XYZ CNC Machine – Model: VL425
Given our CNC capabilities, we are able to manufacture from M12 thru to M64. It also provides us with the ability to machine 'specials' to drawings for the grades described above.
Bandsaw – Bianco Model: 330SAE
The Bianco metal cutting bandsaw is manufactured in Italy with reliability and accuracy its first consideration. All machines have modern cast bows in special alloys to ensure one of the highest precision Bandsaw ranges available.
Cutting capabilities – for bars, threaded bar, tubes and other steel work.